Good wine is a precious and delicate gift from nature.
We are, first and foremost, farmers, hence we carry out every single phase of the winemaking process with the utmost care and attention, arriving at the culmination of our work, the harvest, with great joy and emotion. 
All our grapes are harvested by hand. As soon as the grapes are off the vines and in the winery, they are vinified at controlled temperature in steel and concrete vats. The wine is aged in steel, concrete and clay amphorae as well as in large and small oak barrels. The final stage of the ageing process occurs in bottles within our winery, where the temperature and humidity are controlled to ensure the wine is ready to drink at its very best.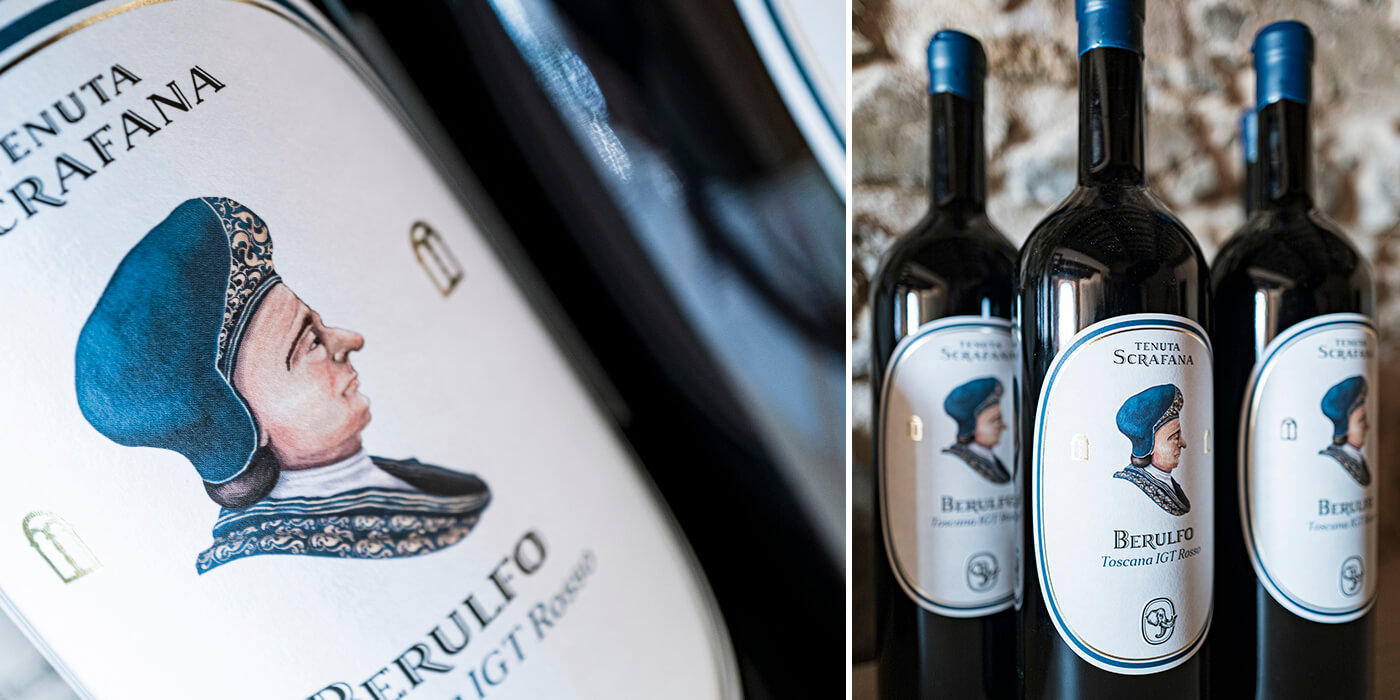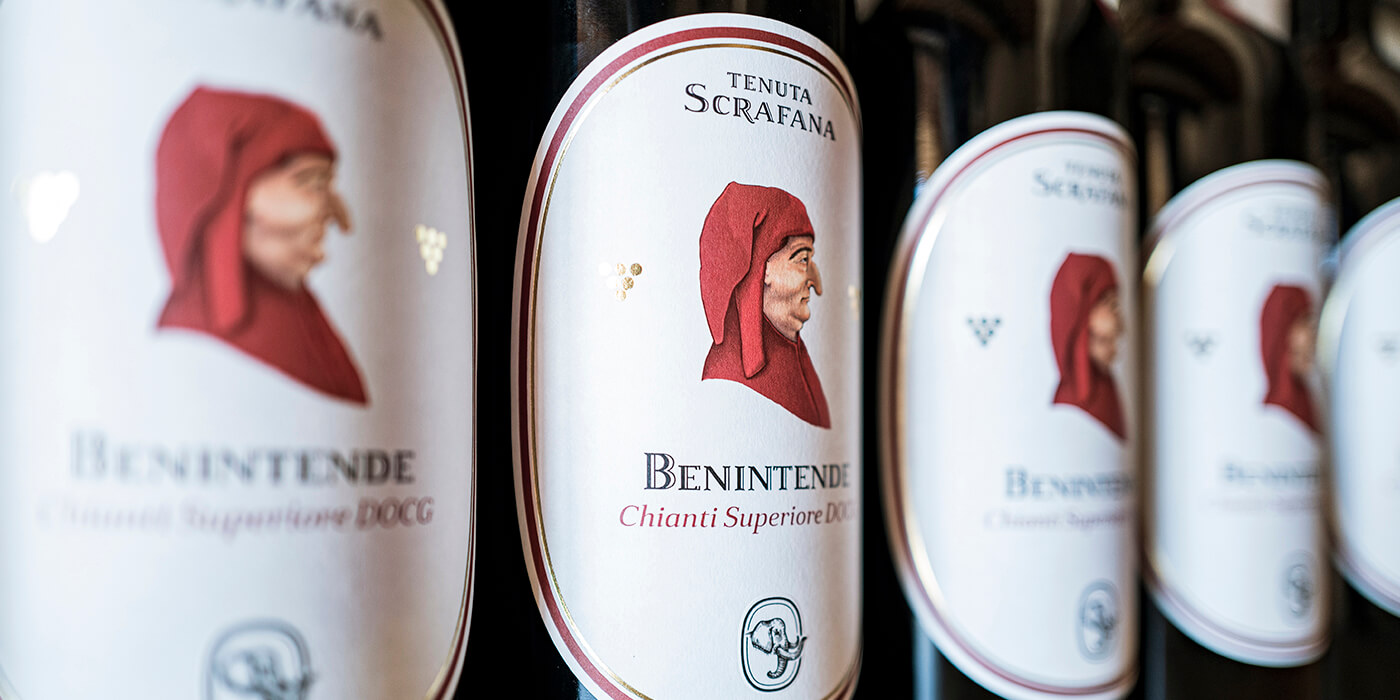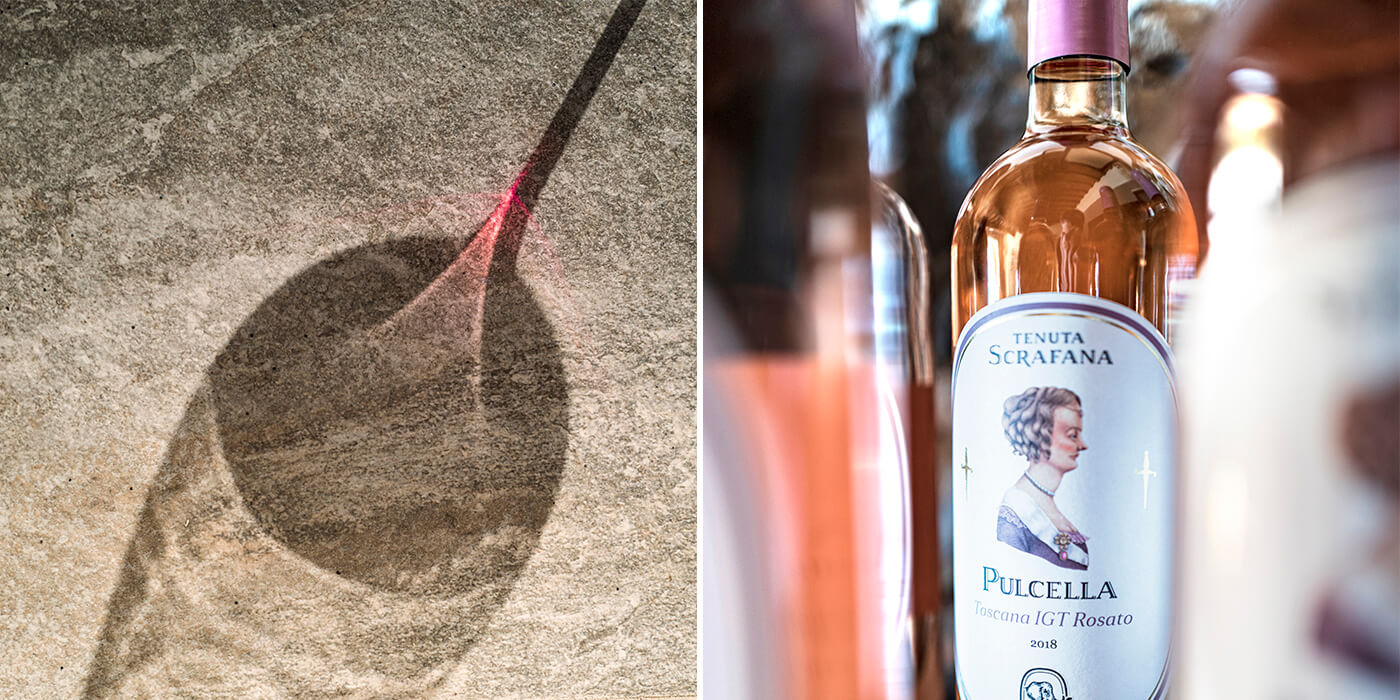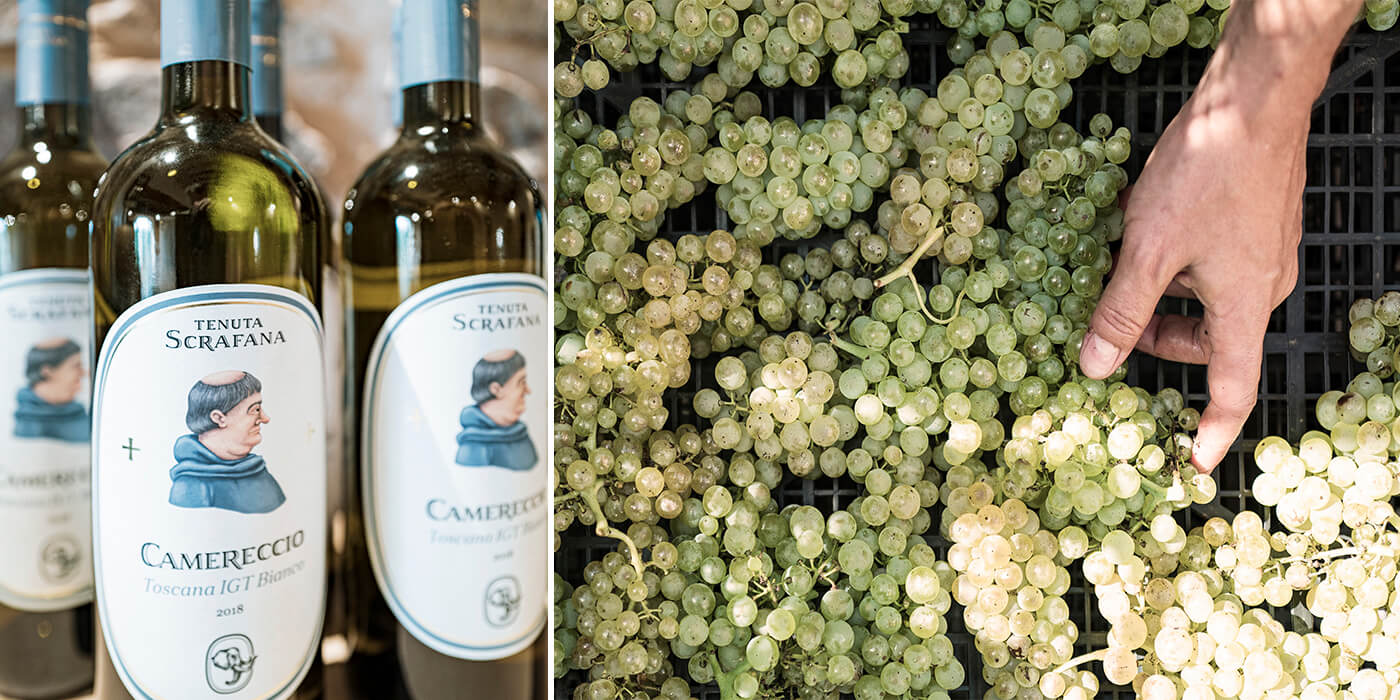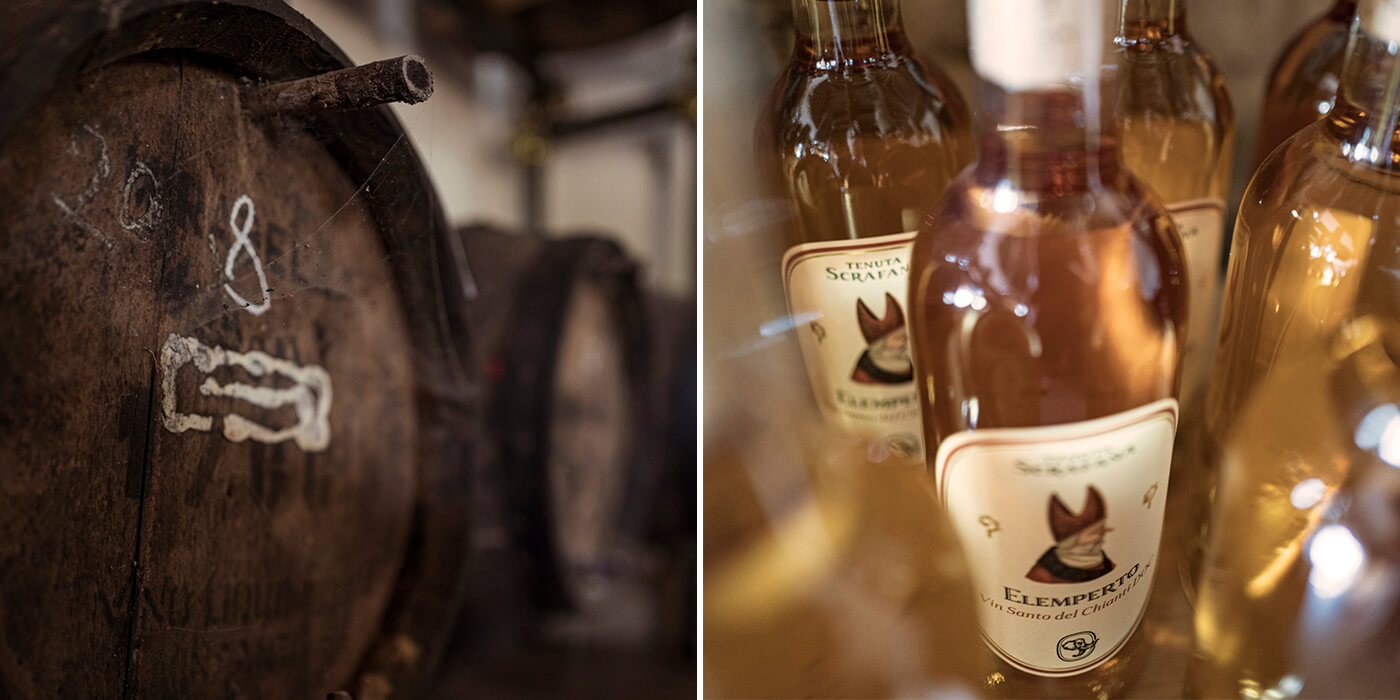 BERULFO
Toscana IGT Rosso
---
Intense deepish ruby red in colour with ruby-purple reflections.
A complex bouquet comprising fruity aromas of blackcurrant and red plum along with floral notes of violet and elderberry, with hints of black pepper offering a spicy finish.
Its structure, which typifies our land, is reflected in its name, that of the Montevarchi territory's first lord, the Longobard Berulfo who, around 615-620, requested and was granted the right to manage the territory and on which he built monasteries and castles. The image on the label is dedicated to Berulfo, underlining a connection that we still feel today despite the passing of many centuries, because it's based on an immediate and instinctive love for a territory that's unique throughout the world.
Pairings:
Roast pork loin, beef stew with polenta, mature Pecorino di Pienza cheese.
Serving temperature at the table:
16 – 17 °C
Download the complete profile 2017.
---
BENINTENDE
Chianti Superiore DOCG
---
Ruby red in colour tending towards garnet. An intense bouquet, typical of the grape, with fruity notes of red plum, blackberry and cherry accompanied by subtle hints of liquorice.
Its name has a close association with the Scrafana Estate, since it was the name of an old farmer who was the first, according to historical records, to cultivate this area. We don't know what Benintende looked like, because having carefully studied the few documents that exist we found nothing more than a single reference, anyhow we wanted to pay tribute to him by depicting him on the label. We imagine him to be a modest, proud man who lives for the land and works hard every day to get the best from it.
Pairings:
Tuscan crostini, Siena pici pasta, beef stew with artichokes, mild Pecorino cheese.
Serving temperature at the table:
15 – 16 °C
Download the complete profile 2017.
---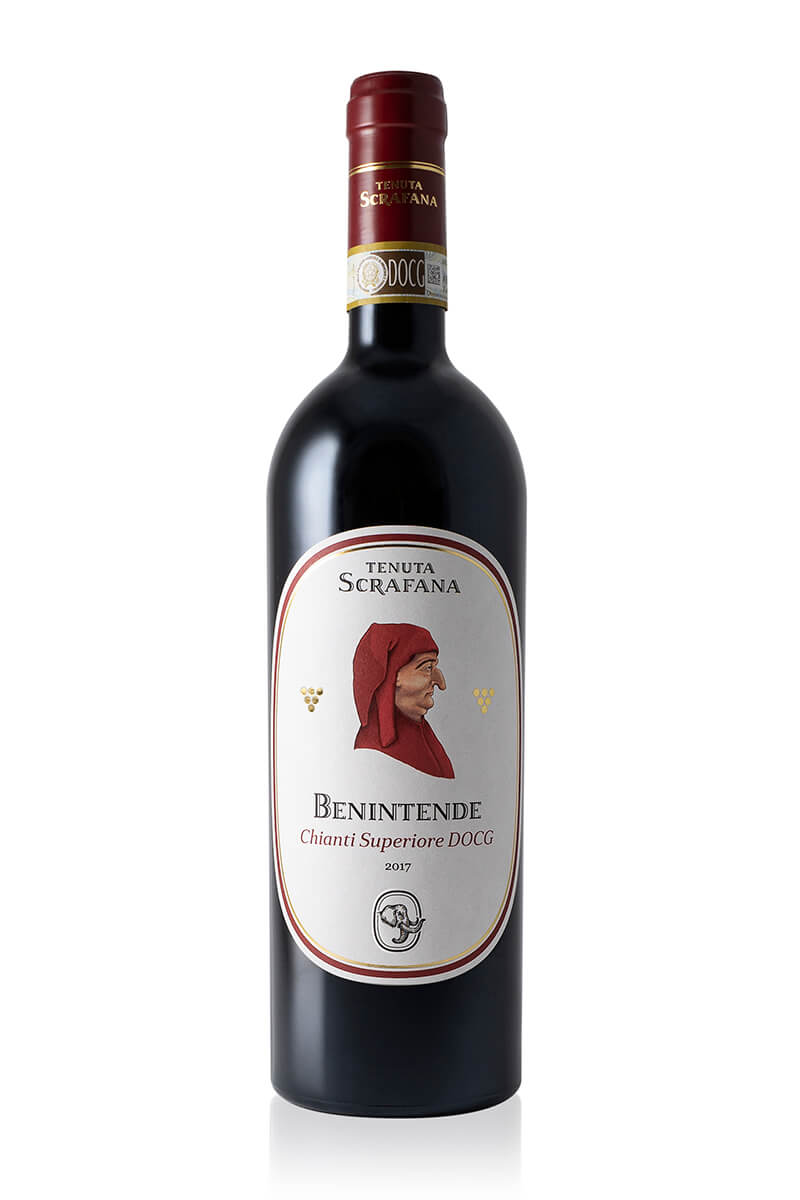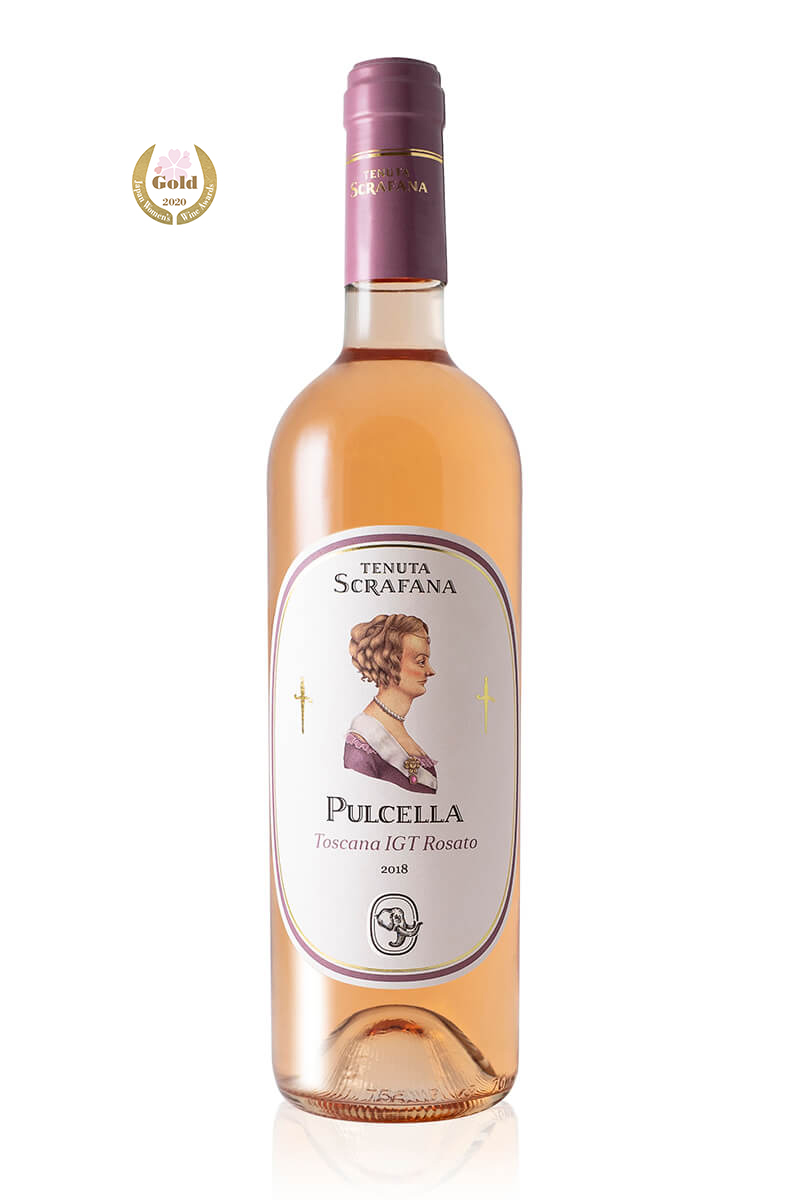 PULCELLA
Toscana IGT Rosato
---
Bright pale pink in colour. An intense bouquet offering delicate fresh red fruit notes of black cherry, wild strawberry and raspberry with spring flower hints of sweet violet, rose and peony.
A combination of finesse and intensity, characteristics that resemble the heroine who inspired its name, the beautiful Sandrina Mari, "Pulcella del Valdarno" ("Maid of Valdarno"), who is featured on the label. A noble figure who was a fighter and a patriot, the young Alessandra, known as Sandrina, had the courage to challenge Napoleon, leading a volunteer army from Arezzo she'd recruited to defend the Grand Duchy of Tuscany.
Pairings:
Salmon carpaccio, panzanella (tomato & bread salad), seafood risotto, spaghetti with tomato sauce, trabaccolara (pasta with fish sauce). Ideal as an aperitif.
Serving temperature at the table:
10 – 12 °C
Download the complete profile 2018.
---
CAMERECCIO
Toscana IGT Bianco
---
Bright greenish yellow in colour. A fresh, fragrant bouquet with fruity notes of plum and yellow apple.
It owes its name to an ancient breviary, the beauty of whose elaborate decoration is mentioned in historical documents, which was gifted to the Convento di San Lodovico (San Lodovico Convent) in Montevarchi. The label features a monk, in tribute to the centuries of work and effort the monks put into preserving our precious cultural heritage.

Pairings:
Seafood salads, tagliolini pasta with clams, frog stew, steamed shellfish, spaghetti with wedge clams, pot-roasted rabbit.
Serving temperature at the table:
10 – 12 °C
Download the complete profile 2018.
---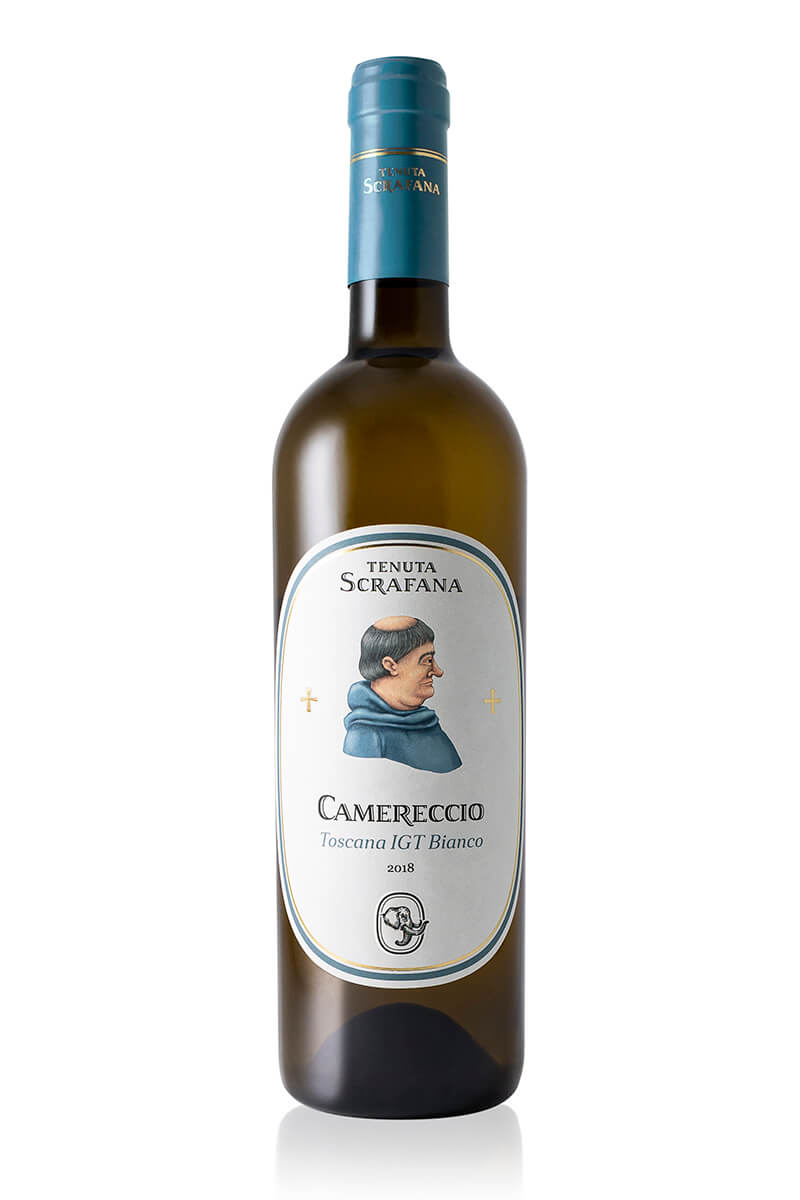 ELEMPERTO
Vin Santo del Chianti DOC
---
Bright straw yellow in colour with subtle reflections of antique gold.
A characteristic bouquet with intense notes of fresh walnut and hazelnut alongside hints of candied and dried fruit, apricot and yellow peach, with a final flourish of chestnut honey.
Paying homage to the area and its history once again, we have chosen an ecclesiastical figure to inspire its name. Elemperto was once the bishop of Arezzo and a lord, but above all he donated a hospital and all his assets to the local community.
Pairings:
Dry pastries, Tuscan cantucci (almond biscuits), apricot jam tarts, chocolate strudel, nuts.
Serving temperature at the table:
10 – 12 °C
Download the complete profile 2012.

---